Indirect Criminal Contempt Attorney
in Pottstown, Pennsylvania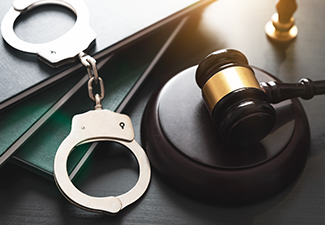 Courts are the arbiters of controversies. Those controversies may be civil, such as when parties disagree on matters in divorces, child custody, property issues, and personal injury claims. Other controversies are criminal, such as when a defendant stands accused of criminal violation of the law. In both cases, the court listens to evidence presented by each side and applies the law in rendering a decision. That decision, unless appealed to a higher court and overturned, is irrevocably binding on all parties involved.
The law requires that the court and its actions must be respected. Disrespect in the courtroom or failure to obey a court order outside the courtroom are criminal acts with criminal consequences. If you have been charged with indirect criminal contempt, you need an experienced attorney to mount a defense.
As a former prosecuting attorney, member of the military, and police officer, I believe in respecting the actions of the court. As a criminal defense attorney, I also believe that every individual accused of a crime deserves a strong defense. At David J. Cohen Law Firm, LLC, providing the best defense possible is what I do every day for my clients in Pottstown, Pennsylvania, and throughout Montgomery and Chester counties.
What Are Indirect Criminal Contempt Charges?
You may be charged with indirect criminal contempt if you disobey a court order. Such orders require that you adhere to or refrain from certain conduct. For example, if you violate the terms of a restraining order, you can be charged with indirect criminal contempt. The same would apply to violating a cease-and-desist order or a gag order.
You could also be charged for failure to appear in a court-appointed hearing. For example, if you were served a summons to appear in court in a child custody case or to testify in a criminal case, you must appear at the appointed date, time, and location. If you fail to do so, you may face criminal contempt charges.
Because this is a criminal charge rather than a civil charge, you are entitled to defend yourself against it and the prosecution is required to prove criminal contempt. An indirect criminal contempt charge is separate from any other matter you may be facing in court, such as a divorce, assault, or child custody proceeding.
What Is Direct vs. Indirect Criminal Contempt?
Direct and indirect criminal contempt are different. Indirect criminal contempt occurs outside the physical confines of the courtroom. A charge of direct criminal contempt, on the other hand, may result from disrespect and disruption in the courtroom, such as talking back to the judge, verbally assaulting a witness, or committing some other type of outbreak. If charged with direct criminal contempt, there is no burden of proof and no prosecution of the charge. That burden is removed because the judge witnesses the events personally. Therefore, the judge will render both verdict and penalty immediately.
What Is Proof of Indirect Criminal Contempt?
If charged with indirect criminal contempt, the prosecution would need to prove that you defied the court's authority. If, for instance, you have been charged for failure to appear in court as ordered, the prosecution would need to produce evidence that you were properly and timely served notice of the court summons and that you intentionally defied the summons by not showing up in court.
If you allegedly violated a Protection from Abuse Order, the prosecution needs to produce evidence of the violation. For example, there must be evidence that you contacted the subject of the protective order or evidence that you knowingly were in too-close proximity to the subject in violation of the terms of the order.
As is true with any criminal charge, you are presumed innocent until proven guilty. The prosecuting attorney bears the burden of proving your guilt beyond a reasonable doubt.
What Penalties Do I Face if Convicted
of Indirect Criminal Contempt?
Possible penalties for a contempt conviction in Pennsylvania include fines between $300 and $1,000 and possible incarceration for up to six months, or fines and supervised probation for up to six months.
You will pay other penalties as well. If convicted, you will have a criminal record which has implications for employment, professional licensure, housing, loan availability, and child custody and visitation. Having a criminal record can also take a toll on your personal relationships with family, children, and friends.
Indirect Criminal Contempt Attorney
Serving Pottstown, Pennsylvania
Defying a court order is a serious crime with serious consequences. You need a criminal defense attorney who can defend you against an indirect criminal contempt charge and mitigate penalties if found guilty. As a former prosecuting attorney and law enforcement officer, I have experienced both sides of a contempt charge, and I will use that experience in your defense. If you have been charged with contempt in or around Pottstown, Pennsylvania, call David J. Cohen Law Firm, LLC today.